Spring Break Student Deals
April 08, 2018
What's Happening?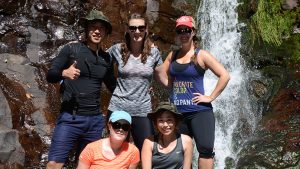 Pocono Biking and Pocono Whitewater are offering a Spring Break Special!
Spring break is a time when you get to do something fun to avoid thinking about school.  Often times, activities during spring break can get pricey.  At Pocono Biking, we want you to have an awesome time without breaking the bank.
Students get to raft or bike (rental & shuttle) for the discounted rate of $37.99 per person.  Valid student I.D. required.
As an added bonus, you'll also receive a free pass to come back and play Skirmish Paintball – that's a $36.00 value.
Rail-Trail Biking includes:
Whitewater Rafting includes:
All necessary whitewater rafting equipment
Life jacket
Free parking
Post trip bonfire
Change rooms
Shuttle service to/from the river
Professional river guides
Free Pass to play Skirmish paintball - a $36.00 value (April & May)
How do I book a trip?
To make reservations call 1-800-Whitewater (570-325-8430).