St. Luke's Hospice Bike Ride
June 04, 2022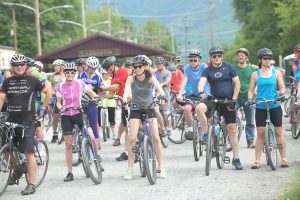 St. Luke's Hospice relies on community support to ensure the continued high-quality, compassionate hospice care that our family and friends have come to know.  Your participation in the St. Luke's Hospice Charity Bike Ride will help support a patient and family currently receiving hospice care and will provide hope and peace to them during this time of great uncertainty.  Thank you for reaching out to a family in need.
The Charity Bike Ride, held each year in June, combines fun and exercise with charitable giving. The family of a former hospice patient originated the event in appreciation of the care and support received from hospice. The ride has evolved to more than 200 riders who gather on the D&L Trail to celebrate the lives of family and friends they have lost. Year after year, they honor their loved ones and support hospice, as well as enjoy a beautiful day of biking along the picturesque Lehigh River.
The St Luke's Hospice Annual Charity Bike Ride takes place on Saturday, June 4th, 2022 at 10:00 AM.  Riders will have the choice of a 20 or 30 mile trail ride. The ride begins south of Jim Thorpe at the Lehighton Trailhead on the D&L National Heritage Trail. The cost is $40 per person and includes a participation bag, shirt, and bike loan from Pocono Biking if needed.
To sign up for this ride click here.