Twin Trails Ride
August 14, 2020
2 TRAILS, 1 DAY, 30 MILES!
ON THE NOR-BATH & LEHIGH GAP SECTIONS OF THE D&L TRAIL!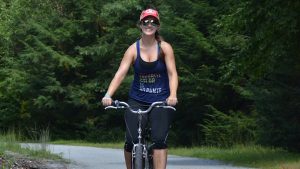 Come experience our Twin Trails Ride…two picturesque rail-trails in one great day; riding 30 miles total on the Nor-Bath and D&L Rail-Trails!
You'll pick up your morning shuttle at our Pocono Biking Jim Thorpe trail head store. We will drop you off at Jacksonville Park, the top of the Nor-Bath Rail-Trail located near Northampton, PA.  Your eyes are sure to stay busy as you pedal at your own pace along the former site of the Northampton & Bath Railroad.  As the Nor-Bath trail winds through the beautiful Lehigh Valley countryside, you'll pass farm fields, forests and creeks. You'll also ride through small tunnels and over bridges.  Along the way you'll also pass by Bethlehem's Bicentennial Park and the historic ruins of Fort Allen-Brown.
Where the Nor-Bath trail ends, your second journey begins on the Lehigh Gap section of the D&L Trail.  This section of the Delaware & Lehigh National Heritage Corridor is packed full of history, wildlife, and sprawling nature. Following the Lehigh River all the way back to Jim Thorpe, you'll cycle through the Lehigh Gap and famous Appalachian Trail, pass historical remains such as locks & canals, and ride over the new Mansion House Bridge in downtown Jim Thorpe, built specifically for cyclists & pedestrians.  This Twin Trail ride is professionally guided to help you navigate the multiple trails and highlight all the attributes these two trails have to offer.
2020 TWIN TRAIL DATES
April
June
July
August
September
October
November
2020 TWIN TRAIL RATES
Individual – $54.99 (ages 13 and up)
RATE INCLUDES:
30 mile rail trail bike ride
Trek bicycle rental
Bike helmet
Professional guides
Shuttle service to the trail
TRIP NOTES:
Check in at Pocono Biking, Jim Thorpe.
Food is not provided on this trip. We recommend packing food and water to bring along.
RESERVATIONS CAN BE MADE BY CALLING POCONO BIKING AT 570-325-8430.