Gift Cards
Need a gift idea for a birthday, holiday or special occasion?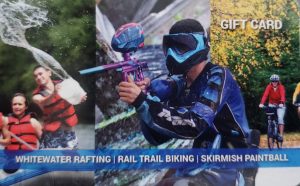 Give the gift of outdoor adventure and lasting memories to your family and friends this year. Pocono Biking gift cards are available for sale year round. You can purchase one of our gift cards in any monetary amount and we'll ship it to you for free! Gift cards can be applied towards one of our adventures or used to purchase products in our shops. The best part??? They never expire!
Pocono Biking gift cards can be used at all of our companies and retail locations – Pocono Biking (Jim Thorpe & White Haven), Pocono Whitewater, and Skirmish Paintball.
It's the perfect gift and simple to purchase. Just stop by our  Pocono Biking Jim Thorpe Store located at 7 Hazard Square OR give us a call at 570.325.8430 to purchase one over the phone. We will mail it right out to you – no shipping fees!