Biking Shuttle Schedule
Need a lift to the bike trail?
Our shuttle schedule has you covered. Pocono Biking offers convenient one-way bike shuttle services to various trailheads. We offer bike shuttles from our Jim Thorpe and White Haven, PA locations. You're options are endless. Choose a 10, 15, 21, 25, or 36 mile bike ride through beautiful state park protected mountains. We also offer multisport adventures, specialty bike trips, and multi-day, Inn to Inn, overnight bike packages.  You can bring your own bike or you can rent one of our Trek bicycles! Check out the shuttle schedule below. Call 570.325.8430 to reserve your shuttle today!
The D&L rail trail is well maintained, has hard packed gravel and dirt surfaces, and our shuttles will take you there! They are great for hybrid style bikes and mountain bikes. Stunning waterfalls and picturesque landscapes make for a beautiful outdoor adventure. Make sure you bring your camera! We can accommodate large groups and families with children ages 2 and up. Reservations can be made by calling 570.325.8430.
IMPORTANT: Trail improvement & construction has been taking place since fall of 2021 on the Full Lehigh Gorge Biking Trail which is part of the Full Monty. The White Haven trailhead is currently closed and is expected to reopen in early spring 2023. This means that our White Haven Trail Head Shop is closed AND shuttle service to the Full Monty section of the D&L Trail is suspended until construction is complete.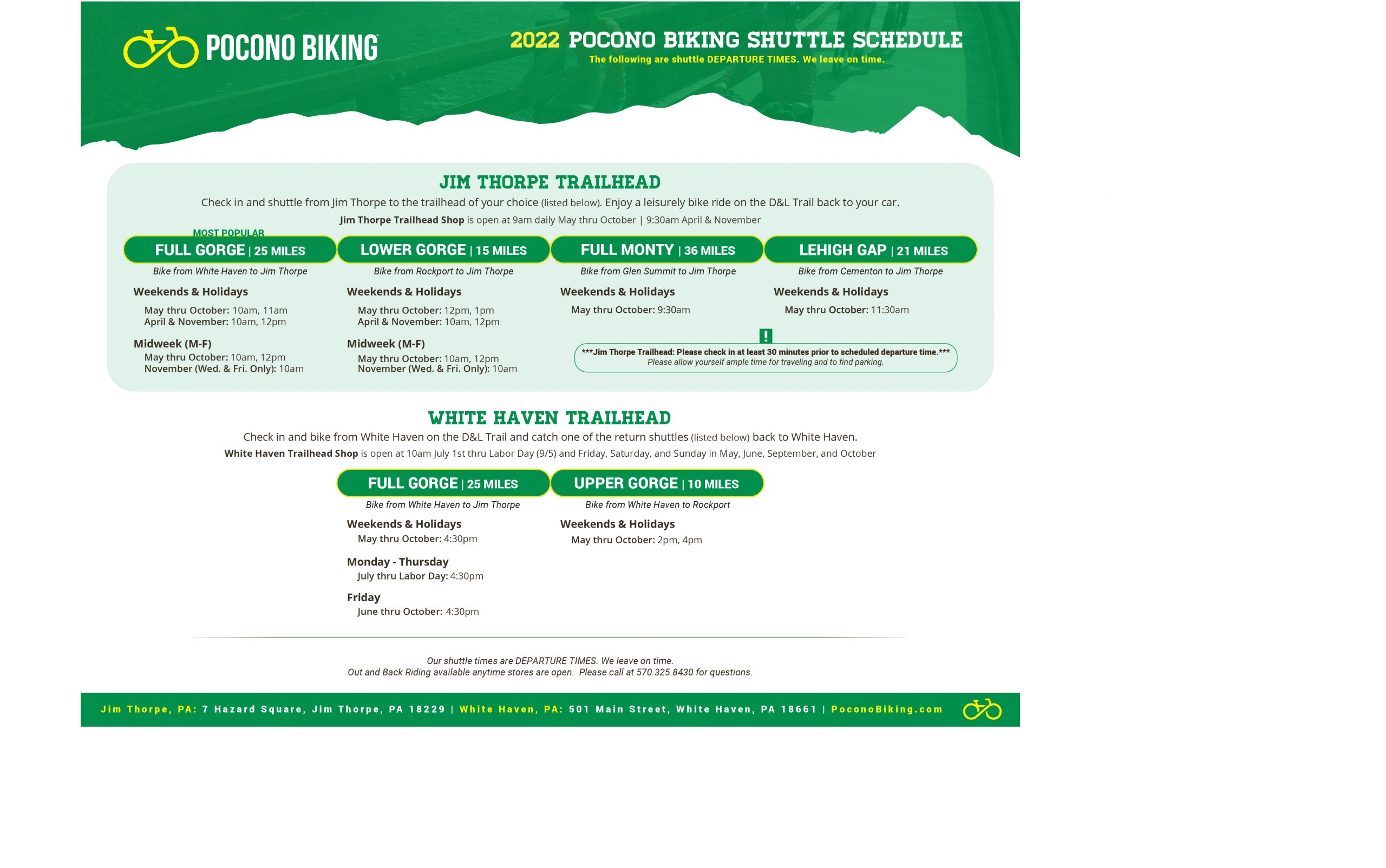 Note for Jim Thorpe location:  Our shuttle times are DEPARTURE TIMES. We leave on time. We recommend and strongly encourage arriving at our store at least 30 minutes before departure time. Please allow yourself ample time for traveling and to find parking.