2 Day Bike Ride
November 05 - 07, 2021
2 DAYS OF BIKING & 2 NIGHTS OF LODGING INCLUDED
Join us for a 2 day overnight bike package where you'll spend two nights in the heart of downtown Jim Thorpe, as well as experience up to 57 miles of riding on the D&L Trail.  Check in to the Inn at Jim Thorpe on Friday, November 5th, the night before your ride. Take time to explore the quaint shops, museums and history of Jim Thorpe, PA.
DAY 1
The next morning, enjoy a delicious breakfast at the Broadway Grille and gear up for your day of bicycling. Then take a short walk to our bike shop, just a few buildings away. Next, we will shuttle you to the north end of the rail trail. You will ride The Full Monty from Glen Summit to Jim Thorpe. During your 36 mile ride through the Lehigh Gorge State Park, you'll encounter wildlife, waterfalls, lakes, scenic overlooks, railroad history, and more. Finally, your ride will end back in historic Jim Thorpe.
DAY 2
On day two, you will again start with a hearty breakfast at the Broadway Grille. After another short walk to our bike shop, you will be shuttled to the Lehigh Gap section of The D&L Trail. Then, ride along at your own pace for 21 miles. The trail follows the Lehigh River as it bends through small, river towns. Along the way you will cross the Appalachian Trail, pass the Lehigh Gap Nature Center, as well as explore the ruins of the Lehigh Canal. Your rail trail biking ride ends when you cross the Mansion House Pedestrian Bridge and arrive back at your car in Jim Thorpe.
Reservations for this 2 day overnight bike package can be made by calling the Pocono Biking office at 570.325.8430. Please ask for Janet at extension 113. Janet will be happy to help answer any of your questions. She will also take care of all the details of your reservation, including your lodging.
2021 2 DAY BIKE PACKAGE DATES
May
1st & 2nd (arrive on the April 30th)
June
5th & 6th (arrive on the 4th)
26th & 27th (arrive on the 25th)
July
15th & 16th (arrive on the 14th)
August 
5th & 6th (arrive on the 4th)
September 
11th & 12th (arrive on the 10th)
October 
14th & 15th (arrive on the 13th)
November 
6th & 7th (arrive on the 5th)
2021 2 DAY BIKE PACKAGE RATES
WEEKDAY BIKE PACKAGE
Individual with own bike – $225.
Individual with bike rental – $270.
Single supplement – $130. additional for those traveling solo
E-bike rentals are available for an additional charge
WEEKEND BIKE PACKAGE
Individual with own bike – $305.
Individual with bike rental – $350.
Single supplement – $170. additional for those traveling solo
E-bike rentals are available for an additional charge
Rate Includes
57 miles of rail trail biking
Two nights of accommodations at the Inn at Jim Thorpe
Two breakfasts at the Broadway Grille 
Shuttle service to the trailheads
Free parking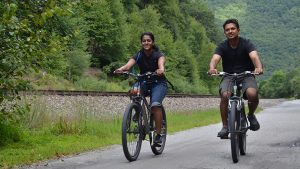 RESERVATIONS & INFORMATION
For more information on our 2 day overnight bike package, please give us a call at 570.325.3654.  Ask for Janet, ext. 113 or send us an email at info@PoconoBiking.com