BIKE TRAIN
November 13, 2021
ALL ABOARD THE SCENIC BIKE TRAIN!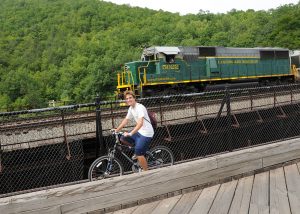 Step back in time and enjoy a relaxing 25 mile train ride through the Lehigh Gorge.  Then, pedal your bike back down to Jim Thorpe at your own pace along the Lehigh Gorge Rail-Trail.
Begin your day in Jim Thorpe, where you and your bike will board the Lehigh Gorge Scenic Railway. You will enjoy a one hour ride as the train swings onto the former Lehigh Valley main line and passes Glen Onoko, the southern gateway to the Lehigh Gorge State Park.
While you sit back, relax and take in the outstanding scenery, the train will follow the winding Lehigh River for 25 miles. You'll round curve after curve until you reach the village of White Haven. Here, you and your bike will be dropped off at the Lehigh Gorge trailhead.
Once at the trailhead, pedal at your own pace down the D& L Lehigh Gorge Rail-Trail for 25 miles back to Jim Thorpe. Along the way, you'll pass canal remnants, swim spots, scenic overlooks and railroad trestles. Remember your camera. The many sparkling waterfalls provide great photo opportunities.
If you don't have a bike or don't want the hassle of bringing your own, no worries – just rent one of our Trek bicycles.
The Bike Train runs at 9AM only today.
2021 BIKE TRAIN DATES
April
May
June
July
August
September
October
November
2021 BIKE TRAIN RATES
Train Ride/Shuttle with your own bike
Train Ride/Shuttle with our Trek bike rental
BIKE TRAIN RESERVATIONS
Bike Train reservations are necessary and can be made by calling the Blue Mountain & Northern Railroad (aka Lehigh Gorge Scenic Railway) directly at 570-325-8485.
NEED LUNCH FOR YOUR RIDE?
Renee's Cold Cut Hut –  When you arrive at the bike trail in White Haven, take a stroll over to Renee's Cold Cut Hut and grab your lunch to take on the trail.  Renee is offering Bike Train riders a $7.00 packed lunch that includes a sub, chips, and bottled water.  To save time, we recommend calling Renee with your order either the day before or prior to boarding the train in the morning.  Walk-in orders are also welcome.  Renee's phone number is: 570-215-0057.