Metric Century
September 20, 2020
62.1 MILE BIKE RIDE ON THE D&L TRAIL & SLATE HERITAGE TRAIL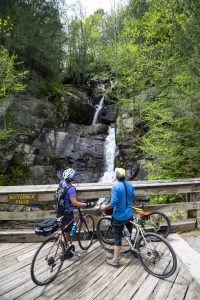 Push yourself to your limits as you tackle a Metric Century, 100Ks (62.1miles) on the D&L Trail & Slate Heritage Trail. You'll follow our custom designed route and  experience one of the best biking trails in the country. First, check in at our Pocono Biking location in Jim Thorpe. We will shuttle you to the Glen Summit trail head where you'll begin your self guided bike ride. You and your friends will pedal at your own pace through the Lehigh Gorge State Park. Wildlife, locks, canals, waterfalls, and photo opportunities at scenic overlooks await you.
As you exit the state park, you'll ride across the Mansion House Pedestrian Bridge in downtown Jim Thorpe. The path continues along the Lehigh River as it bends through small trail towns. Along the way, you will cross the Appalachian Trail, pass the Lehigh Gap Nature Center and explore the ruins of the Lehigh Canal.  From here, you'll continue you're ride on the Slate Heritage Trail. This bike trail was built on the former Lehigh Valley Railroad. It features unique structures such as a series of slate benches, a building made of slate which houses restroom facilities, a covered bridge and a refurbished railroad bridge. After exploring the Slate Heritage Trail, you'll return to the D&L Trail to finish the remainder of your Metric Century bike ride.
2020 METRIC CENTURY DATES
May
September
TRIP NOTES:
Check in at Pocono Biking, Jim Thorpe.
Food is not provided on this trip. We recommend packing food and water to bring along.
2020 METRIC CENTURY RATES
Individual (ages 13 & up)

with own bike – $44.99
with bike rental – $64.99
RATE INCLUDES:
62.1 mile bicycle ride
Trek bicycle rental (if needed)
Bike helmet
Digital bike route via Ride with GPS
Bike shuttle services to the trail
Warning:  You should be in excellent physical condition for this ride and be someone who rides their bike regularly.  There is limited trail access along a majority of this ride.