Waterfalls Photo Bike Tour
November 03, 2019
EXPERIENCE THE LEHIGH GORGE RAIL-TRAIL BY BIKE AND FOOT.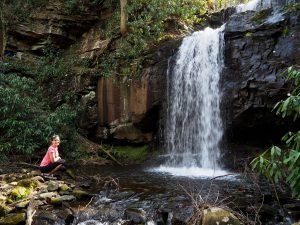 Explore the Lehigh Gorge State Park. Pocono Biking's Exclusive Waterfall Photo Bike Tour allows you to experience the Lehigh Gorge Rail-Trail by bike and foot. You will bike for 25 miles. Along the way, you'll embark on various side walks and hikes. Discover waterfalls, scenic vistas, canal ruins and seldom visited natural wonders. Keep your camera ready, you may also see some wildlife!
Most visitors never leave the main trail, but we want to take you on the path less traveled. Come experience everything that the Lehigh Gorge State Park has to offer! Groups are limited to 12 people so your trip will be small and intimate.
The Waterfall Photo Bike Tour is the perfect way to get the full experience of the Lehigh Gorge in the Pocono Mountains.
2019 DATES
April
May
October
November
Private Waterfall Photo Bike Tours are available to groups of 10 or more people, mid-week. Just give us a call at 1-800-WHITEWATER (1-800-944-8392) to arrange your private trip.
TRIP NOTES
You should expect this specialty trip to last about seven hours starting from the time you check in.
You should be in moderate shape.
Solid footwear (hiking shoes, sturdy sneakers) and durable clothing should be worn.
A backpack is recommended to carry any extra food, water, and clothing you wish to bring.
Don't Forget Lunch & Your Camera!
2019 RATES
Individual – $69.99 (ages 13 & up)
RATE INCLUDES
Trek bike rental
Bike helmet
Shuttle service
Water and a snack
Professionally guided ride with approximately 3 hours of walking/hiking along the way.
Reservations for the Waterfall Photo Bike Tour are necessary.  Please give us a call at 570-325-3654 to reserve your adventure today.